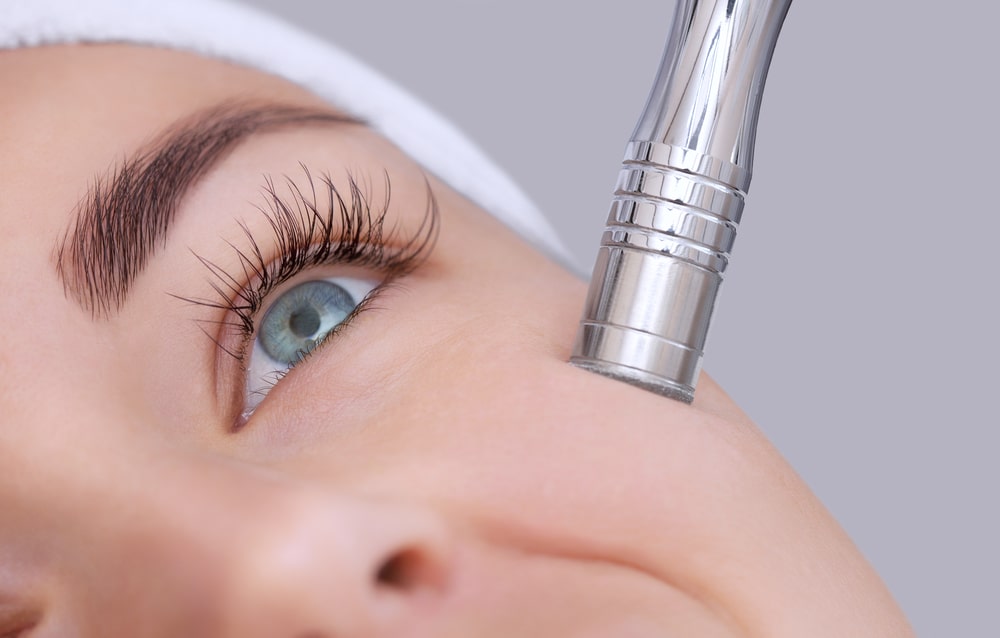 Microdermabrasion has been around for quite some time, and it's a non-invasive cosmetic treatment used to polish and cleanse the skin. If you haven't heard of it before or you have but you're not sure what it is exactly, this post is for you because here we'll share everything you need to know about microdermabrasion.
What is microdermabrasion?
Microdermabrasion uses a specialised machine that works to exfoliate and resurface the skin by gently removing dead skin cells. The therapist uses a wand to gently exfoliate the skin's surface by spraying or rubbing small crystals on it. The aim is to make the skin appear younger. The machine has a diamond head and a vacuum and as it is glided across the surface of the skin it shifts dead layers and removes trapped dirt as it goes. The purpose of microdermabrasion is to help minimise the appearance of fine lines, pigmentation and age spots as well as boost the elasticity of the skin and improve its texture and overall appearance.
What can I expect during a microdermabrasion procedure?
The microdermabrasion steps can differ depending on who you go to however, you can generally expect the therapist to explain the procedure before getting started. They will get you to lie down and they will cleanse the skin in preparation for the treatment. The microdermabrasion wand will be glided over sections of the face. Afterwards, you can expect some mild redness and minor discomfort. This is short-lived and typically subsides within a few hours.
How safe is microdermabrasion?
When microdermabrasion is completed by a trained professional, it is an extremely safe procedure and the side effects are minimal. Usually, rare side effects such as bleeding and scaring would only occur if the therapist hasn't completed the procedure properly.
Can microdermabrasion produce tangible results?
With so many beauty treatments on the market, you may be wondering if microdermabrasion is another fad or if it actually works. While you will notice an immediate difference in your complexion and skin post-procedure, most people need consistent regular treatments to notice long-term results.
Benefits to microdermabrasion
There are several benefits to microdermabrasion treatments, including:
No downtime required
Safe and non-invasive
Rejuvenate the appearance of the skin
Less painful than other procedures such as skin needling
Cleanse and reduce the size of pores
Decrease the appearance of fine lines
Help with pigmentation
Assist with acne scarring
Decrease excessive oil production
Can help with uneven skin tones
Allows for better absorption of skincare products
Boosts collagen and elastin production
When considering microdermabrasion, you should keep in mind that you will notice the best results when you have regular treatments.
Who is not suitable for microdermabrasion?
Those who have the following may not be a suitable candidates for microdermabrasion:
Sensitive skin
Bleeding disorders
Open sores
Sunburnt skin
Warts
Those who get keloid scarring
Moderate to severe acne
How long does a microdermabrasion treatment take?
On average, you can expect a microdermabrasion treatment to take around 30 to 60 minutes. If you are having vitamin infusion treatments or additional extras, this may take longer.
Potential side effects of microdermabrasion
Post microdermabrasion treatment, you may notice the following side effects:
A slight burning or stinging feeling
Sensitivity to the skin when exposed to sunlight
Skin swelling
Ensure that you are staying out of the sun post-treatment. If you have to go out in the sun, wear proper sun protection.
How much does microdermabrasion cost?
Microdermabrasion treatments have gone down in price over recent years and this is primarily because it has become increasingly popular and there is now more competition than ever. You can expect to pay anywhere from $100 to $250 for a microdermabrasion treatment and more if you choose to include vitamin injections gold coast or additional treatments in your procedure.
What is the difference between microdermabrasion and micro-needling?
Sometimes microdermabrasion and micro-needling get confused as the same thing however, they are vastly different. Microdermabrasion works to remove the top dead layer of the skin whereas micro-needling works by penetrating the skin.
The side effects of skin needling are typically longer lasting, and the pain is considerably more as the skin is penetrated rather than exfoliated.
The benefits of micro-needling tend to be better than microdermabrasion. It encourages the skin to renew itself and produce more collagen. Micro-needling is more expensive than microdermabrasion but many choose this over microdermabrasion due to the greater benefits.
Can I do microdermabrasion myself?
Yes, you can although you must follow proper hygiene practices and the correct technique to prevent damage to the skin and infection from occurring. Additionally, you need to ensure that you have the right equipment for the job, using cheap and flimsy equipment can do more damage than good.
Different types of microdermabrasion treatments
Crystal microdermabrasion
For this type of microdermabrasion procedure, a hand-held wand disperses minuscule exfoliating crystals on the skin. These crystals are concurrently sucked back into the device by the accompanying vacuum as well as any loose or dead skin.
Crystals of aluminium oxide are frequently utilised because they are stronger and more efficient than crystals made from sodium bicarbonate. Due to its chemically inactive ingredients, aluminium oxide has no allergic side effects.
Diamond or Crystal-free microdermabrasion
For this type of microdermabrasion, a diamond-tipped wand is used in place of crystals. The skin is exfoliated with this method by gently gliding the diamond-tip wand over it.
As there are no crystals that would normally reach the nooks and crevices of the face, diamond tip microdermabrasion can be less effective than the crystal microdermabrasion method. This technique is better for use around the eyes and mouth as there is no risk of the crystals getting in them during the procedure.
Microdermabrasion is a great procedure for those looking to enhance their skin with minimal pain or side effects
Microdermabrasion is a great entry-level treatment if you're looking to rejuvenate the look of your skin. It's non-invasive and affordable and if you have regular treatments, you should notice a change in the condition and texture of your skin.
If you have any more questions about microdermabrasion treatments, feel free to call the girls at Bella Donna Injectables and Skin. We specialise in all things skin and would love to help if we can.