If you're a fan of Two Faced's beautifully designed makeup products you may be interested in purchasing the Too Faced Romantic Eye Palette which is known for offering neutral eyeshades and the right eyeshades to create a smokey look for a night out.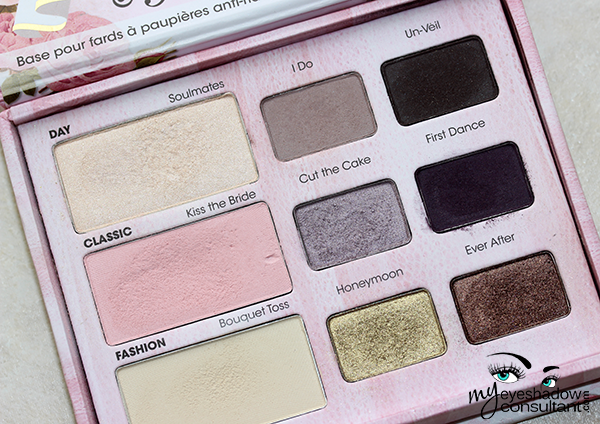 Too Faced Romantic Eye Palette Review Photos and Swatches:
It offers three distinct types of eyeshadow:
This eye palette offers great value as it offers pearl eyeshadows, shimmery eyeshadows, and matte eyeshadows. So you'll always have the right type of eyeshadow for every event which you're invited to. As examples, you'll be able to use basic matte eyeshadows for work or study and shimmery eyeshadows for a night out.
They work well on top of Too Faced's primers:
While the shades that are offered are fairly light, they do look more pigmented when they are used on top of one of Too Faced's highly rated primers. So it's also well worth picking up a Too Faced primer if you want your eyeshadow selections to appear super pigmented.
Three of the shades come in larger sizes:
three of the shades which are on offer, Soulmates, Boquet Toss, and Kiss the Bride come in larger sizes. Which is great news as they are the three shades which you are most likely to use the most. Soulmates is a shimmery gold shade, while Kiss the Bride is a pale blush pink shade and Boquet Toss is a pale, yellow shade. Which can be used as a neutral shade or a base for your eyeshadow looks.
It features six shades in smaller sizes:
As well offering three larger shades, the palette also offers six smaller shades. These are Honeymoon with is a vivid gold shade, Cut the Cake which is a cooler sparkly brown shade and Ever After which is a sparkly bronze shade. All three of these shades are ideal to add a bit of drama to your eyes. The three remaining colors are I Do, Un-Volt, and First Dance. I Do is a beige shade that is ideal for all skin tones. Un Volt is a deep, rich brown which is perfect for bold looks, and the final color First Dance is also a very usable brown shade.
It's perfect for date night:
Whether you're still on the hunt for your perfect partner or you've found the one, if you're looking for a palette that is perfect for date night, it's a great idea to purchase this palette. As you can create a pink-inspired, romantic look that will look great with any outfit that you choose. For example, you may want to pair a simple dress, with a pink makeup look using your Too Face palette.
In conclusion:
So if you are looking for an eyeshadow palette that offers plenty of pretty, wearable shades that can be used for everyday use and more fancy occasions, it's well worth getting your hands on the Too Faced Romantic Eye Palette. Especially if you love pink, beige, and brown shades of eyeshadow.