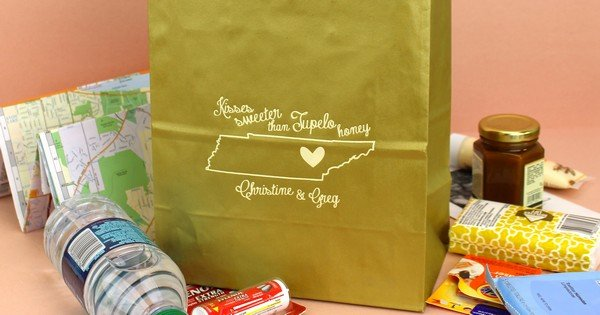 When you are hosting a wedding, destination, or otherwise, and you have guests coming from different cities or countries, it's a great gesture to hand out wedding welcome bags to them. Welcome totes or goodie bags to wedding guests are the perfect thank you gesture for everyone who travelled all the way to attend your big day. They are also currently hot selling must-haves for weddings.
Not only do welcome wedding bags make your guests feel special and appreciated, but they also add a personal touch to your wedding if you get them customized. However, getting them right and knowing what to put in them can be slightly tricky. Here's a list of things you should add to your wedding gift bags for guests to make them gorgeous and unique and ensure that your guests will absolutely love them!
Must-Have Items in Welcome Wedding Bags for Guests
Here is everything you should include in your welcome wedding gift bag for your guests and some interesting welcome wedding bags ideas.
1. Wedding Bag or Tote
First things first, you obviously need an awesome and gorgeous wedding tote, paper bag, or box. Which one to get depends on the number of goodies in your bag and your budget. Whichever you go with, we recommend that you get them custom-made with your wedding details to add a personal touch.
2. Wedding Itinerary
Your welcome wedding bags are the perfect place to include all the important details about your wedding. Add a wedding itinerary that provides information about the location, dress code, time, list of events, and any other relevant information.
3. Fresh Fruits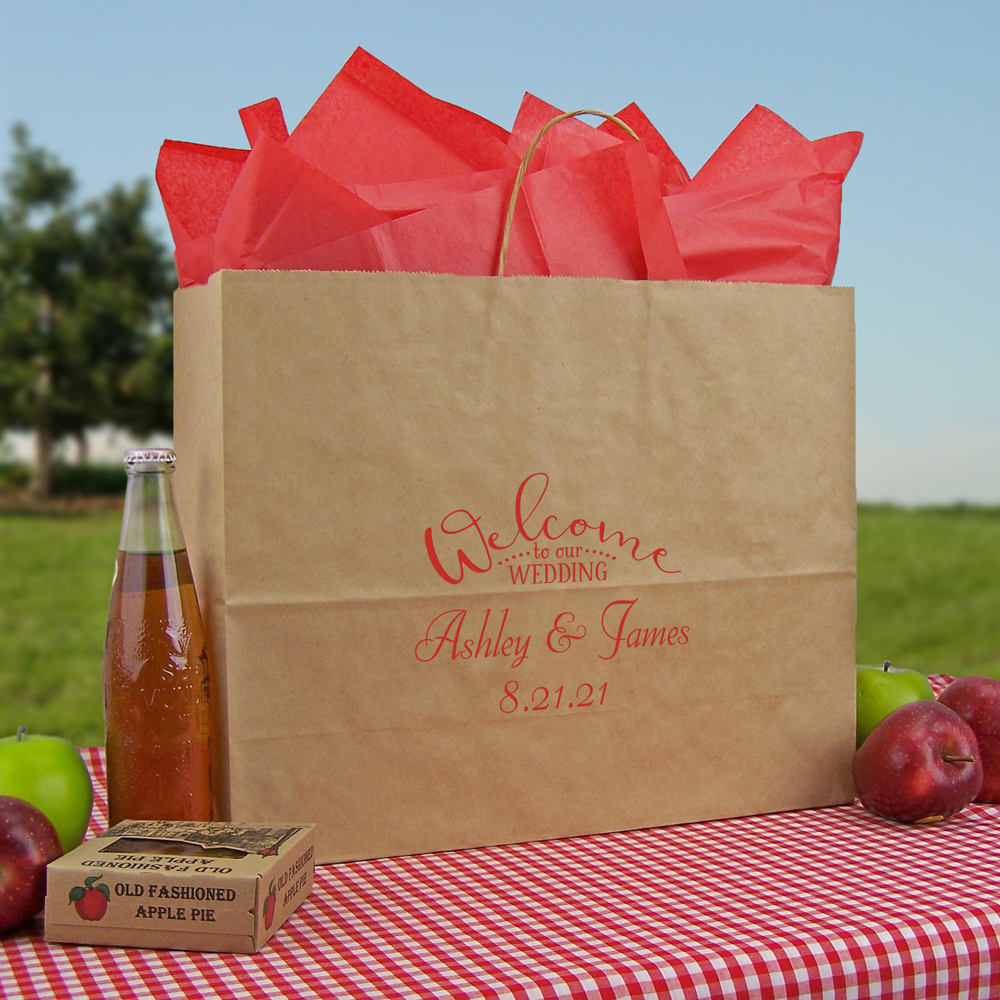 Who does not love fresh seasonal fruit? This is why we think you should definitely not miss out on adding these. Get fruits like apples and oranges in bulk and add one to each bag. You can even get the fruits customized with your monograms.
4. Handmade Goodies
Though not a necessary item, handmade goodies can add a touch of luxury to your wedding bags. You can consider getting spa-inspired items, such as soaps, bath salts, or candles. They are the perfect gift to add to help make your guests feel relaxed.
5. Thank You Card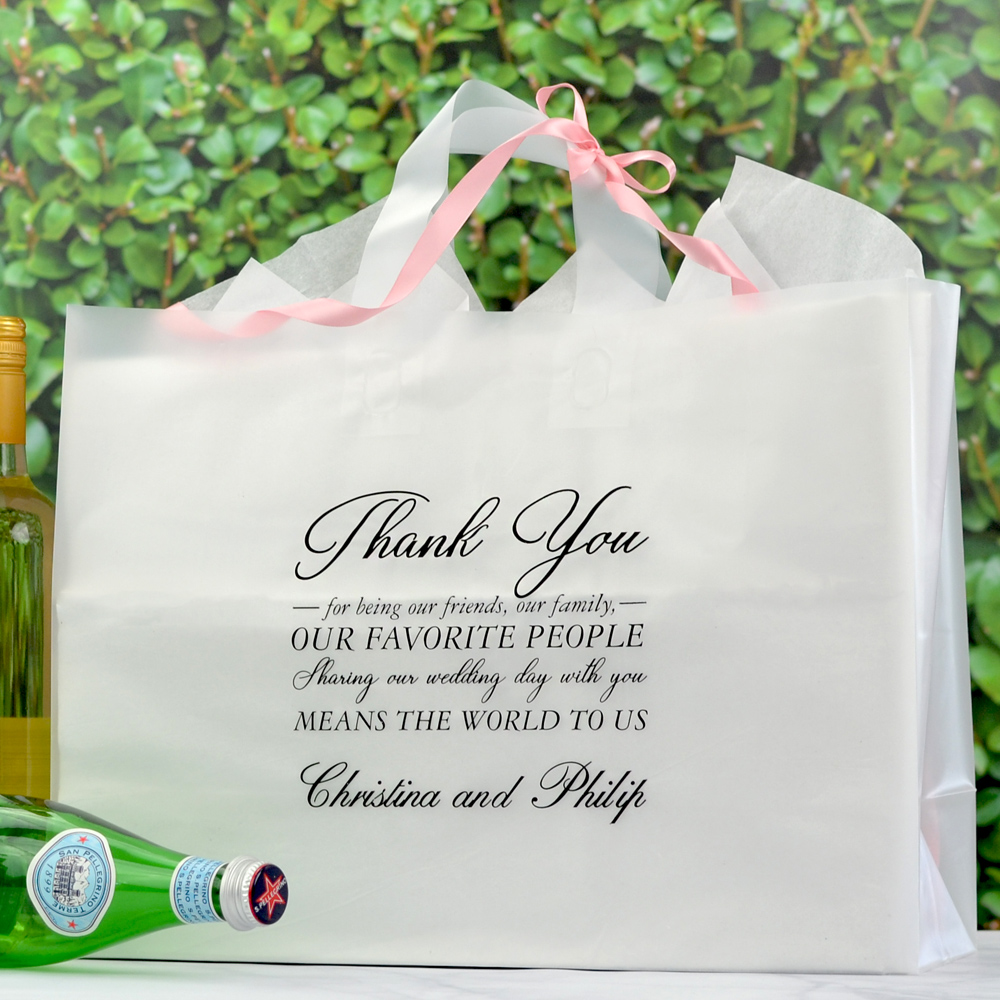 Be sure to include a thank you card in your welcome bags because, of course, the bags are a token of appreciation. Besides all the necessary information, a small thank you card with sweet sentiments will definitely make your guests feel special and welcomed.
6. Beverages
When we say beverages, we mostly mean water. You can go with glass bottles or plastic ones, whichever fits your budget. Besides this, you can also include drinks, both alcoholic and nonalcoholic. The best idea is to have a local beverage in the area you are hosting the wedding.
7. Snacks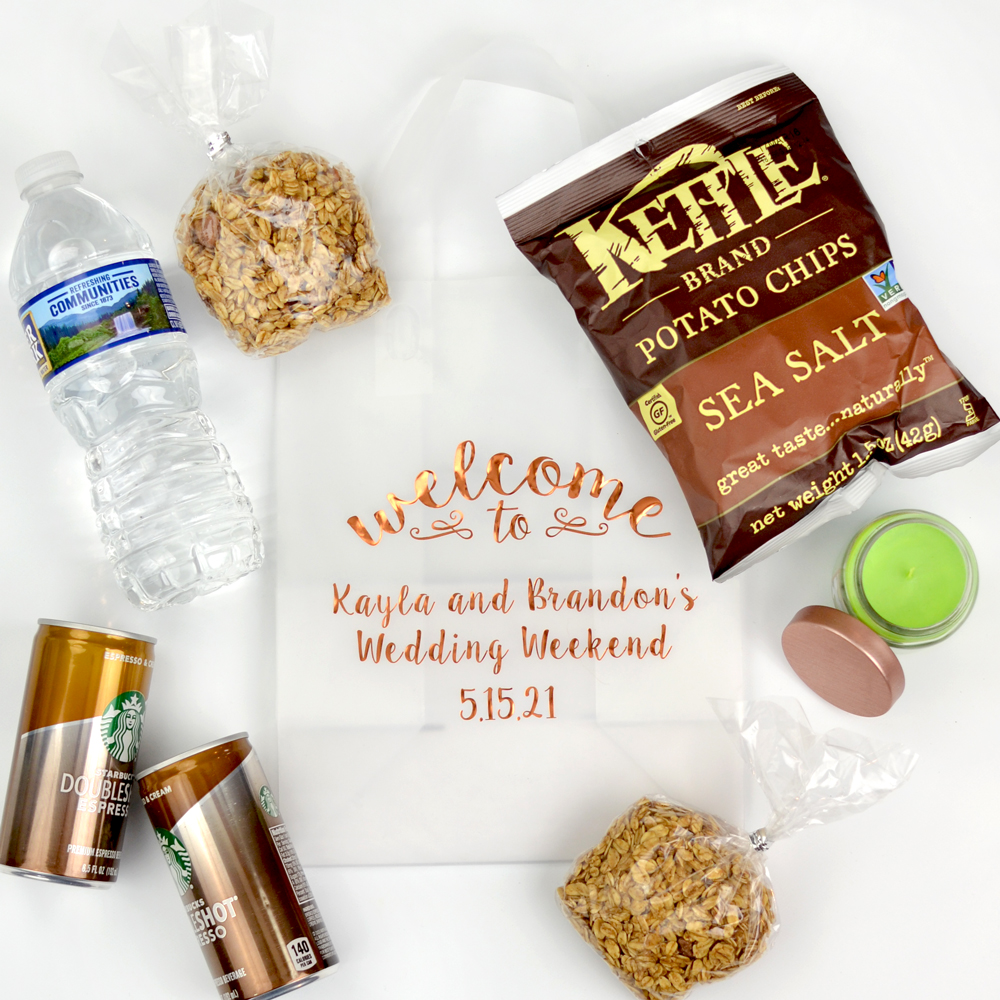 No wedding welcome bag is complete without any snacks – both sweet and salty ones. You can include small bags of crackers, chips, nut mixes, cookies that your guests can munch on before the reception. They are also great for late nights. Similarly, chocolates and sweets also add a great touch. Not to mention, you can also get their packaging customized according to your wedding details and initials.
8. Weather Essentials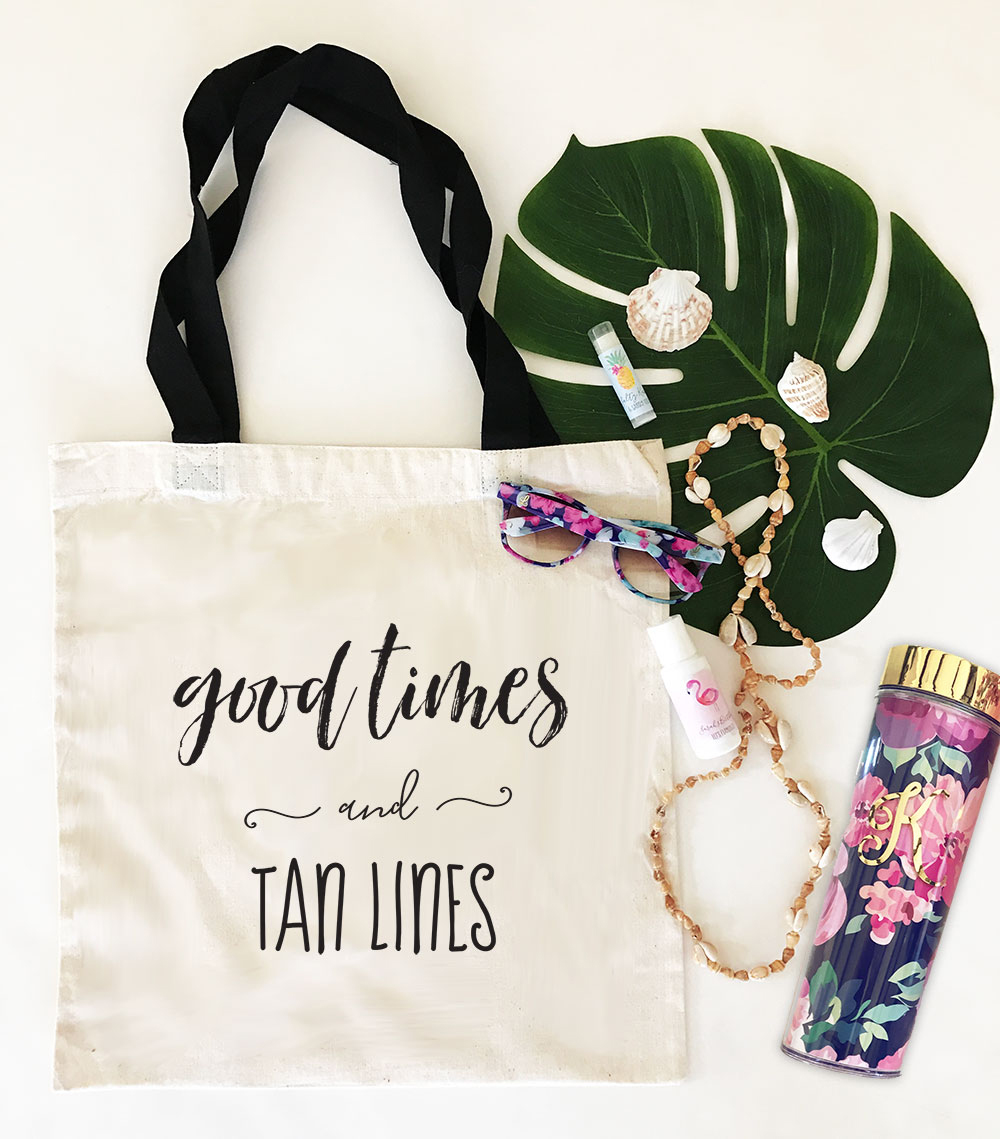 Depending on the kind of weather of the area during your wedding, you can include weather essentials, including sunblock, sunglasses, blankets, tea bags, hand warmers, and more. Though your guests might already have these items, including them in your bag will help them feel pampered.
9. Mini Hangover Kit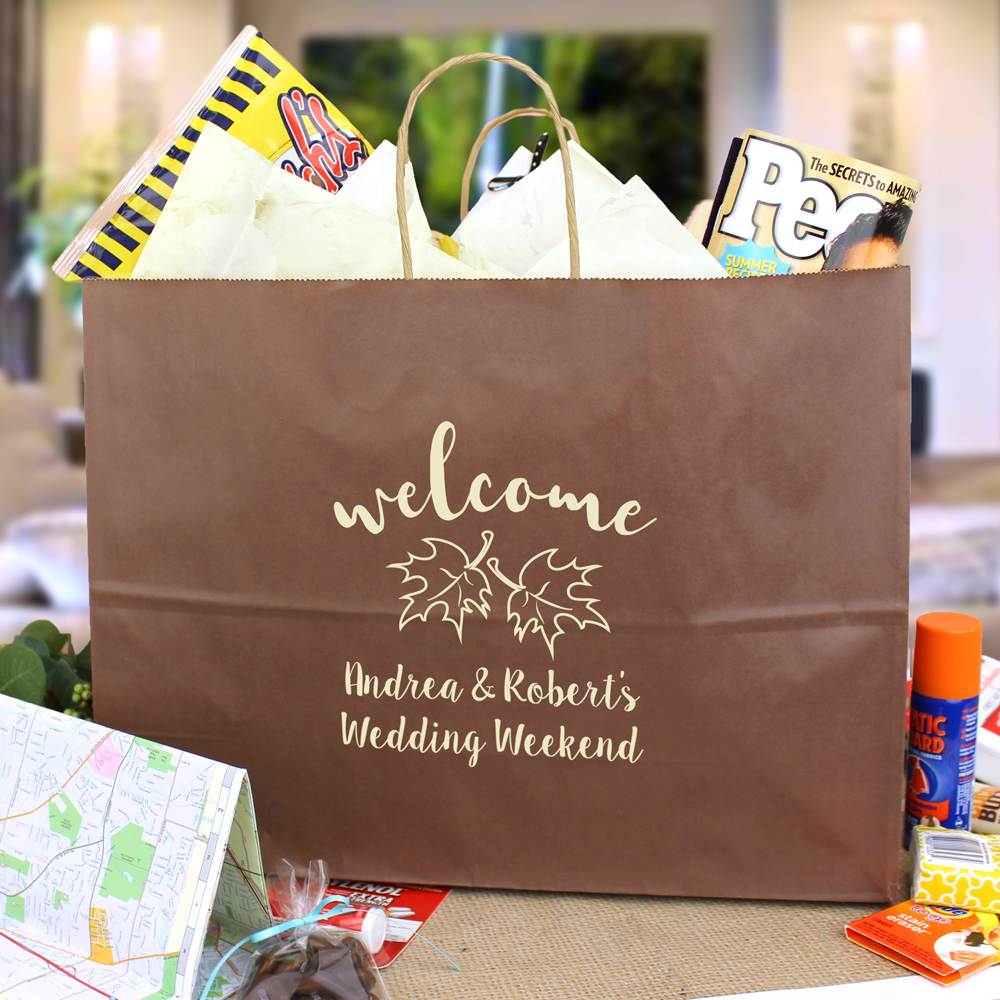 After all, you are hosting a wedding. It's a given that there will be lots of hangovers. So creating a kit that will help your guests recover from morning-after ailments and enjoy the rest of the festivities. This kit consists of everything that can help with a hangover, including aspirin, Advil, Tums, and Pepto Bismol. Add all of this in a cute mini satchel or bag labeled 'Hangover Kit.'
10. Local Collectibles
Whether hosting a wedding in another destination or somewhere in the same city, adding the city's collectibles and souvenirs will always be an excellent touch. This is because it acts as great memorabilia that guests can take home. Some ideas include a magnet, shot glasses, keychains, postcard, map of the place, or any other souvenir.
Final Words
These were all of the essential items to include in your welcome wedding bags for your guests. These will be practical and make your guests feel appreciated, and help you add a unique personalized touch to your wedding. This is especially so if you get all the packaging, bags, and tags customized according to your name, initials, and wedding initials.
You can do all of that and more with the help of My Wedding Reception Ideas. You can visit their website for more information and details!