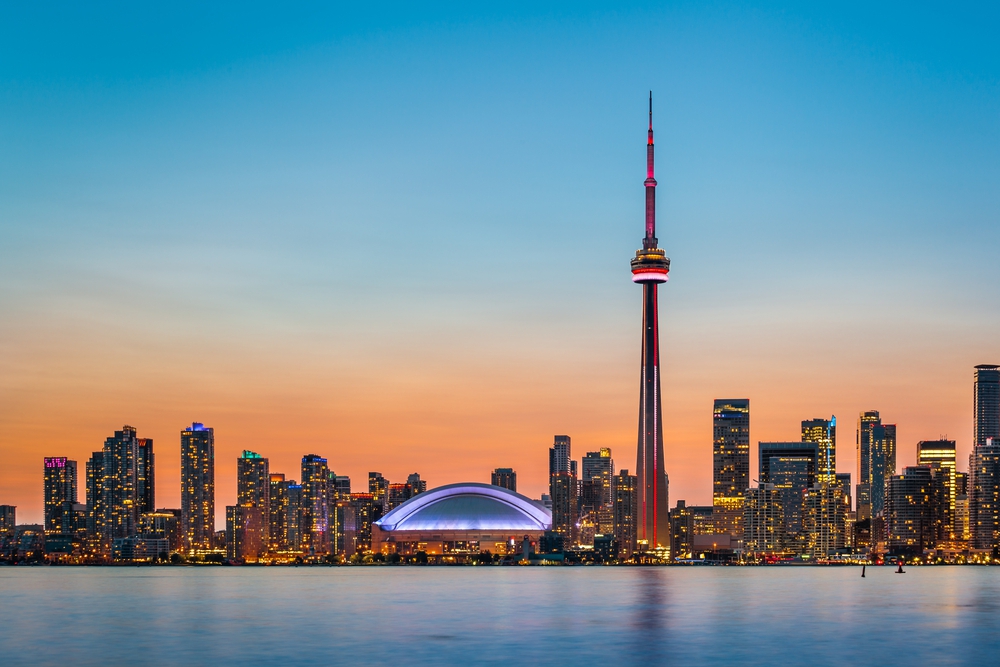 Toronto, Canada, stands as one of the top cities to visit in the Great White North. This vibrant and diverse metropolis offers an array of attractions and experiences that appeal to travelers of all kinds. You can visit the iconic CN Tower, which provides breathtaking panoramic views of the city, explore the historic Distillery District with its charming cobblestone streets and art galleries, and indulge in world-class shopping along Bloor Street. The city also boasts the cultural richness of the Royal Ontario Museum and the lively atmosphere of the Kensington Market. To make your journey to this remarkable destination convenient and memorable, consider booking flights to Toronto, Canada, through its well-connected international airport.
Must Visit Destinations in Toronto, Canada
CN Tower
Toronto's CN Tower, soaring to a staggering 553 meters (1,815 feet), is an iconic symbol of the city. Dominating the skyline, it provides an essential Toronto experience. Visitors can savor breathtaking panoramic views from multiple observation decks, including the exhilarating Glass Floor and the lofty SkyPod. For a unique dining adventure, the revolving 360 Restaurant offers a meal with changing city views. The CN Tower caters to architecture enthusiasts, photographers, and anyone seeking the city's stunning panorama.
Royal Ontario Museum (ROM)
Nestled in Toronto's heart, the Royal Ontario Museum (ROM) is a cultural treasure. It showcases a diverse collection spanning art, culture, and natural history, including exhibits on ancient civilizations, biodiversity, and contemporary art. Visitors can immerse themselves in the rich history of different cultures, explore impressive dinosaur skeletons, and marvel at gem and mineral specimens. The ROM's ever-evolving exhibitions and engaging programs make it a captivating destination for history enthusiasts, science buffs, and art lovers alike.
Distillery District
The Distillery District entices with its historic and artistic charm. This pedestrian-only neighborhood boasts cobblestone streets, well-preserved 19th-century architecture, and a vibrant arts scene. Visitors can explore narrow alleyways lined with galleries, boutiques, and artisan shops, discovering unique art pieces and handcrafted goods. The district also offers diverse dining options, making it an ideal place to savor culinary delights and craft beverages. With art installations, live performances, and a distinctive atmosphere, the Distillery District delivers a unique cultural experience.
Kensington Market
Kensington Market, a colorful and eclectic neighborhood, embodies Toronto's diversity and creativity. This bohemian enclave is a melting pot of cultures, featuring vintage shops, international food stalls, and street art. Vibrant murals adorn narrow streets, while unique shops offer everything from vintage clothing and handmade jewelry to exotic spices and organic produce. Kensington Market is best explored on foot, allowing visitors to fully immerse themselves in its sights, sounds, and flavors. Its eclectic atmosphere and community spirit make it a must-visit for those seeking an authentic Toronto experience.
Toronto Islands
A short ferry ride from the city, the Toronto Islands provide a tranquil retreat from urban life. Offering relaxation on the beach, leisurely bike rides, and nature walks, these islands cater to diverse interests. Centre Island's Centreville Amusement Park delights families with rides and games, while Ward's Island, Hanlan's Point, and Centre Island each have their unique charm and activities. The islands offer stunning views of Toronto's skyline and create a peaceful setting for picnics and outdoor activities. A visit to the Toronto Islands is like escaping into a serene oasis just minutes away from the city's bustling core.
Conclusion
Toronto has several interesting attractions for all tastes. The CN Tower, where you can see the city from above, and the Royal Ontario Museum, which immerses you in culture and history, illustrate the city's vivid and dynamic spirit. Kensington Market and the Distillery District exhibit Toronto's artistic and ethnic spirit. Finally, the Toronto Islands offer a peaceful respite from city life to reconnect with nature. Toronto's top five must-see locations contain something for everyone, whether you're a history buff, foodie, art lover, or relaxer.