Whether you're interested in purchasing your first designer bag or you have an extensive designer handbag collection, you've come to the right place if you're tempted to purchase the Mini Marcie Leather Crossbody bag from Chloe.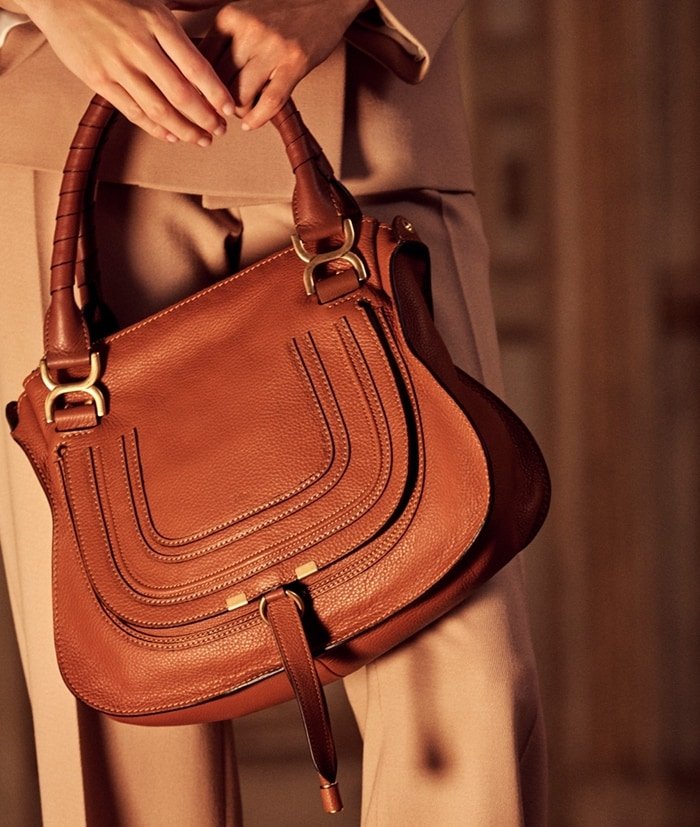 A guide to feminine style Chloe Marcie Small Leather Bag:
Aesthetic:
The Chloe Marcie will appeal to fashionistas who love boho style as it offers an effortlessly cool boho vibe and can be paired with maxi dresses and shift dresses for tropical vacations. However, as it's also inspired by classic equestrian fashion, it can just as easily be paired with jeans, boots, a shirt, and a blazer. So whether you prefer a preppier, classic look or a chic boho style, the Chloe Marcie would make an excellent addition to your closet and your growing handbag collection. Especially as it has a distinctive look and beautifully curved edges which makes it stand out in a crowd.
Leather:
The Chloe Marcie is made out of high-quality, calf leather which will wear nicely over time and is durable enough to put up with daily use as it features a soft, grainy texture. Grainy leather is great as if you have to put your designer handbag on the floor or it accidentally brushes against a wall when you're walking about, it won't scratch and look damaged. While calfskin leather is buttery to the touch and screams high quality.
Production:
One huge selling point of this model is that it's manufactured in Italy, which is known for producing high-quality leather bags. So if you don't want to purchase a bag that has been made in a factory in India or China, you may love the fact that Chloe's premium products are still produced in Italy.
Straps:
No matter whether you're statuesque and tall or short and petite, you'll be able to adjust the strap of your bag, so that it sits perfectly against you. Which is great as you'd be surprised at how many small, designer crossbody bags don't feature adjustable straps.
Size:
If you don't want to lug around unnecessary items that will give you a sore shoulder, you'll love the size of the small Chloe Marcie as while it's small and lightweight it can still carry all of your essentials. Such as your smartphone, keys, wallet, lipstick, sunglasses, and hand sanitizer. As it's such a great size, you'll find yourself reaching for it over your other handbags on a daily basis.
Colors:
One of the hardest decisions which you'll have to make is which color to buy. If in doubt, you can't go wrong opting for brown, which will look especially stylish in summer. However, you can also purchase the small Chloe Marcie in a multitude of fun colors such as turquoise and orange. So if you want your handbag to offer a vibrant pop of color to any outfit consider getting it in a bright hue.
So if you're looking for a small, cross-body designer handbag which is made in Italy out of genuine calf leather, it's defintely well worth splashing out on the small Marcie by Chloe.