If you love to play up your lips or would like to turn your lips into one of your greatest beauty assets, it's important to purchase at least one high-quality lip pencil. Instead of using lipstick on its own.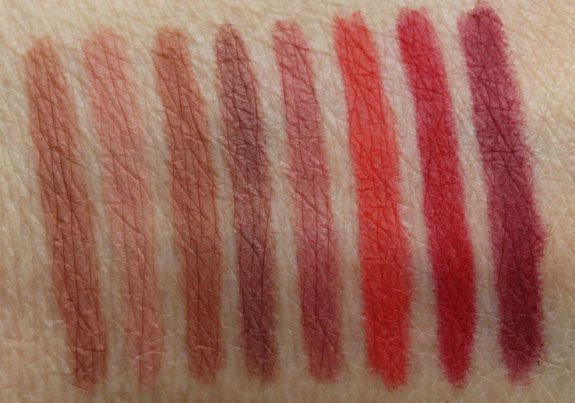 Urban Decay 247 Glide On Lip Pencil Review Photos Swatches:
Precision point:
You don't have to be an experienced beauty guru or makeup artist in order to expertly line your lips as this product offers an innovative precision point, which will ensure that you don't make any mistakes when you're lining your lips.
Jojoba Oil:
One of the Urban Decay Lip Liner's key ingredients is Jojoba Oil. A brilliant oil that has the power to hydrate your lips, in order to give you the smooth, supple lips that you've been dreaming of. As a bonus Jojoba Oil is a natural ingredient, that is 100% safe to use on your lips.
Vitamin E:
One reason to purchase this product is that it is packed full of vitamin E which has natural antioxidants which will help your lips fight potential damage from free radicals and which will help prevent your lips from aging. So if you want to turn back the hands of time or to slow down the hands of time, you'll love Urban Decay's 247 Glide on Lip Pencil.
Long-lasting formula:
One of the biggest reasons to purchase your first 247 Glide On Lip Pencil from Urban Decay is that it boasts a long-wearing formula that has been designed to last for 24 hours. If you pair this lip pencil with one of Urban Decay's long-lasting lip colors, you won't have to touch up your makeup after you complete your makeup look in the morning. Due to its long-lasting formula, you won't have to worry about the edges of your lips feathering. Which will allow you to focus on your daily tasks, instead of being distracted by thoughts of whether or not your lip color is starting to feather out or not.
Versatility:
While you can use it to simply line your lips, a lot of individuals swear by using it as an overall lip color or a base coat for their chosen lipstick. So it's well worth experimenting with the different ways that you can use it.
Colors:
If you don't like wearing ultra-bright colors on your lips, you're in luck as Urban Decay has you covered as they offer a lot of neutral lip pencils to suit every skin tone under the sun. However, there are a few brighter colors such as Big Bang which is a berry-inspired color, that you may want to experiment with if there are days when you enjoy wearing bright colors on your lips. Just be warned once you purchase a single color, you may be tempted to purchase over half of the gorgeous colors that are on offer.
So if you're open to buying a lip pencil in order to define your lips and to boost your confidence, you can't go wrong opting for any of the colors that are available!