If you currently have your eye on the Elie Tahari Faux Suede Motorcycle Jacket and can already imagine it being paired with some of your favorite pieces and outfits, you've come to the right place! Simply continue reading to learn a few reasons why you should take the leap and should purchase this best-selling motorcycle jacket!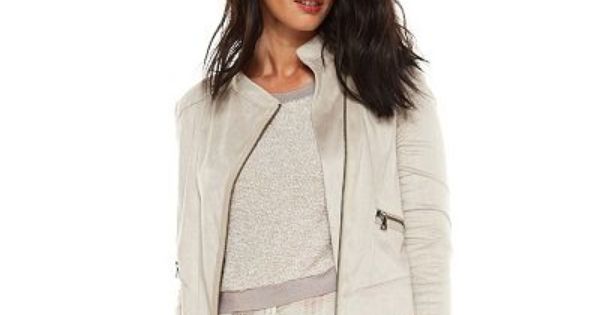 6 Reasons to purchase the Elie Tahari Faux Suede Motorcycle Jacket:
It's far more comfortable to wear than a leather motorcycle jacket:
If you love the look of leather motorcycle jackets but are looking for a lighter, more comfortable option, you can't go wrong opting for a faux suede motorcycle jacket by the popular brand Elie Tahari. As faux suede is soft and comfortable to wear on a daily basis, so you'll get a lot of use out of your brand new jacket.
You can wear it all year round:
If you're looking for a short jacket that is just as versatile as a jean jacket, you'll love this stylish jacket as it's warm enough to be worn in fall and winter yet lightweight enough to be worn over dresses, skirts, and shorts in summer and spring. So if you're looking to invest in a versatile jacket that will be in constant rotation all year round, it's well worth considering purchasing the Elie Tahari Faux Suede Motorcycle Jacket.
It offers an extremely flattering zip:
The zip on this chic jacket is diagonal and as a result, cuts your torso in half and gives the illusion that you're slimmer than you actually are. So if it's important to you that your next coat is flattering and will photograph well, you'll love this particular jacket. As a bonus, a diagonal zip is pretty unique as the vast majority of jackets offer traditional vertical zips. So if you want to make a style statement, it's a great move to opt for a jacket that boasts a diagonal zip.
It's available in classic black:
If you're looking to purchase a staple piece that can be styled with any outfit, your best bet will be to purchase the Faux Suede Motorcycle Jacket in black. As the saying goes, black goes with anything!
It offers two zippered pockets:
If you're running out to complete quick errands such as a trip to the local grocery store you'll be able to fit your car keys and your cards in your pockets. This is practical as so many women's jackets, unfortunately, offer faux pockets that you can't put anything inside.
It runs true to size:
While some brands have vanity sizing and some brands offer sizes that are far too small for industry standards, Elie Tahari as a brand is known for creating garments that are true to size and the Faux Suede Motorcycle Jacket is no exception. If you purchase this fashion-forward jacket, simply opt for your regular dress size.
So if you're looking to purchase a versatile, stylish jacket that will turn heads with its details and is classic enough to wear on an everyday basis, you'll love the Elie Tahari Faux Suede Moto Jacket.